Hiller Model DP484 Decanter Centrifuge with SEE Drive
Hiller Separation & Process is a company motivated by customer expectations to design and produce machines featuring the highest level of sophistication and quality gained from several decades of decanter centrifuge manufacturing and application field experience. The newest machine from Hiller is the Model DP484 Decanter Centrifuge, which reflects our ongoing commitment to mechanical development and process optimization. The all new Hiller Model DP484 Decanter Centrifuge enables us to provide our valued customers world-class standards for high-performance decanter centrifuges on a variety of municipal and industrial wastewater treatment plant applications guaranteeing optimal process results with the highest level of reliability.
Hiller Model DP484 Decanter Centrifuge with SEE Drive features:
Most modern decanter on the market
State-of-the-art of dewatering technology
A quantum leap in robust design and construction
Maximum machine reliability
Optimized for operational simplicity and user-friendliness making it the only "well-mannered" decanter centrifuge on the market, providing unrivalled ease of operation and process stability
Most service-friendly decanter on the market
Safest decanter on the market
Equipped with a very innovative, simple, powerful and flexible scroll drive
Energy efficient
The new DecaPress DP484 performance:
VERY smooth running
Excellent clarification: Almost always >99% solids recovery and / or <200 mg/l centrate solids possible
VERY tame, forgiving and easy to adjust
When (polymer type and dosing, feed DS, etc.) is 100% optimized, the DP484 performance equals 15° machines
In less than optimal conditions the DP484 still provides: Up to 3% DS more than our competition!
Better suited for operation with powder polymer than our competition (more flexibility due two standard feed points)
New DP484 SEE-Drive design (Stationary & Energy Efficient)
Fixed installed on heavy duty base frame
All rotating masses perfectly controlled with less vibration and more safety
Optimized for perfect gearbox lubrication and oil supply to all corners with easy oil level control, continuous oil filtering and oil temperature control (100 l/h water)
No drive belts, no slippage
Direct scroll drive via 4-shaft gearbox that minimizes energy losses compared with 3-shaft gearboxes featuring internal energy recovery cycle (e.g. our own DecaDrive, or Andritz standard)
Standard motors are IE2 (DP484: 37 + 11 kW), 4 pole (1,500 rpm)
Toshiba VF-PS1 inverters are standard and included in price as best value for the money. Deviations not normally possible (Hiller head office to be involved, case by case).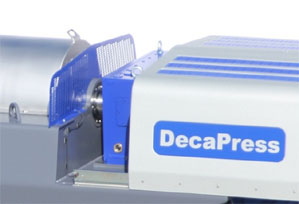 New Hiller SEE-Control:
Software completely developed in house
Hardware specifically developed and produced for Hiller by Grossenbacher, Switzerland
ALL decanter relevant functions included, e.g. bearing temperature, vibration, etc.
No PLC required for decanter control panel
Due to acquisition of SAT, approx. 50% of all control panels are now built by Hiller
Even if hardware is purchased externally, design and software is by Hiller
Remote diagnostics via modem: Optional feature (also for existing DecaPress units) via modem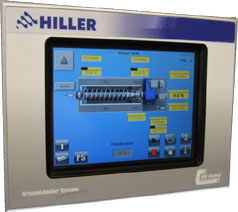 The Hiller DP484 Decanter Centrifuge with SEE Drive standard scope of supply features:
Bearing temperature monitoring
Vibration sensor
Over-speed protection
Gearbox lubrication system including filter, temperature control, water cooler
Drive train cover: slide to open
Lift-off bowl cover (hinged cover = optional, can be added at any time, both sides possible)
Manual greasing for all bearings, individual greasing nipples
VFDs for both motors (Toshiba VF-PS1)
SEE-Control
Feed device including flexible connector for feed

How Hiller designed and built the most advanced decanter centrifuge in the industry: Hiller extensively surveyed long time and new customers as well as non-Hiller customers in a variety of worldwide locations and markets to better understand customer needs and application requirements. Once all the input and data was collected a careful review was conducted to build on areas of strenght and address new areas of improvement. The DP484 prototype was built to the following specifications:
480 mm bowl diameter, L:D = 4.5 : 1
Goal was capacity between DP45 and DP51, but sometimes surpasses DP51
Field testing started in December 2009 and the DP484 prototype was trailer-mounted and 16 tests were conducted in 4 countries over a 22 weeks period on all types of sludges. The original test unit has now been operating since June 2011 with a continuous cycle of design - field testing - evaluation – design review – repeat. Positive and negative results were treated as equally valuable input and several important design improvements were made:
Example: 11 different scroll designs were built and tested
SEE-Drive casing now made from cast iron design for quieter operation (82 +/- 2 dB(A))
Optimised drive train mechanics
Continuous improvement process ongoing!
The DP series centrifuges are manufactured in our modern factory in Vilsbiburg (Bavaria) Germany and are subject to strict quality controls and manufacturing standards. And the care which is taken during manufacture and our 24 hour service support is also reflected in the satisfaction of our clients.
Feel free to ask about our reference list of satisfied customers worldwide.
Hiller Separation & Process US based in the Austin, Texas area is the factory direct sales and support office servicing North America for Hiller Separation & Process GmbH of Vilsbiburg, Germany.
Top of Page