Hiller DecaOil (3) Three-Phase Decanter Centrifuge
The Hiller DecaOil (3) three-phase centrifuge is a sophisticated solid-bowl centrifuge especially designed for highly efficient, simultaneous sedimentation of solids and separation of two immiscible liquid phases. Hiller high-performance decanting centrifuges achieve optimal process results with the highest possible level of reliability. The space-saving concept of the solid-bowl centrifuge, together with high efficiency and optimal process results, make Hiller DecaOil decanter centrifuges the first choice for many oil recovery and oil production applications.
Available DecaOil DO Models

| | |
| --- | --- |
| DO31-363 | Up to 35-GPM |
| DO37-363 | 10 to 45-GPM |
| DO45-363 | 25 to 90-GPM |
| DO54-363 | 45 to 150-GPM |
| DO66-363 | 90 to 285-GPM |
(*Capacities subject to feed product properties)
DecaOil Decanter Centrifuge and Process Technology Features:
Large diameter/length ratio of 1:4.2 and greater in some model size machines
Centrifugal acceleration forces of 3,000 – 5,200 x "G" depending on bowl diameter
(3) Three-phase machines feature the option of adjustable "dip-tube" design or externally adjustable "centripetal pump" for light oil phase discharge
Designed for 3-phase separation of a solids phase from one or two liquid phases during a single processing step plus provides the flexibility of 2-phase processing when required
Explosion proof designs according to requirements including optional nitrogen purged machines
Minimal operator attendance required with fully automated operation featuring our proprietary Hiller HMR 5000 and BMR 6000 touch screen centrifuge control system
Modern scroll back-drive systems including the economical DecaDrive electrical regenerative system and / or DecaTorque hydraulic scroll drive systems featuring the highest possible torques with the fastest possible reaction times
Designs for operation at high temperatures
Various scroll and bowl wear protection systems for long service life
Dynamically optimized fluid design of feed and discharge zones
Customized designs available to meet individual process / sludge requirements
Highest cake dryness minimizes drying costs
Low specific power consumption per unit product processed
All product contact parts available in stainless steel or high tensile strength carbon steel
Simple and service-friendly design with 24 hour factory service support
Hiller DecaOil (3) Three-Phase Decanter Centrifuge Principles of Operation
The Hiller DecaOil centrifuge is a solid bowl decanter centrifuge especially designed for highly efficient, continuous sedimentation of solids and separation of one or two (non-mixable) liquid phases. The feed enters the rotating bowl through a stationary feed tube and is thrown radially outwards into the bowl through feed ports in the conveyor hub. By means of centrifugal force, the solids and liquid(s) are separated from each other.
While the solids particles settle to the bowl wall and are discharged by means of a screw conveyor, the cleared liquid phase accumulates above the separated solids phase and is discharged at the opposite end of the machine. Depending on the design of the centrifuge as well as on the number of liquid phases present, the cleared liquids are discharged by means of overflow weirs, adjustable dip tubes by gravity, or via a centripetal pump under pressure.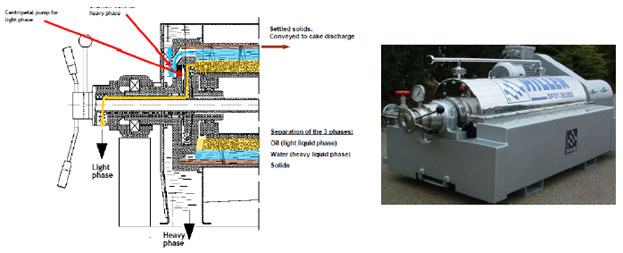 The Hiller DecaPress DP and DO series centrifuges are manufactured in our modern factory in Vilsbiburg (Bavaria) Germany and are subject to strict quality controls and manufacturing standards. And the care which is taken during manufacture and our 24 hour service support is also reflected in the satisfaction of our clients. Feel free to ask about our reference list of satisfied customers worldwide.
Beyond manufacturing decanter centrifuges Hiller Separation & Process will also assist our clients regarding the optimal plant design and recommended choice of ancillary equipment plus implementation and commissioning of the decanter centrifuge equipment.
Centrifuge Maintenance: Centrifuge maintenance is relatively low. It is perfectly normal to run a centrifuge twenty-four hours a day, seven days a week. If a short-term run is required the feed pump may be switched off and the machine left running.
Hiller machines are extremely durable and reliable and require very few consumable spare parts on an annual basis. In most cases the greatest maintenance cost is created by abrasion to the surfaces in contact with metal. All susceptible surfaces are suitably protected with a variety of standard and optional abrasion protective surface materials or exchangeable wear components and liners for extended service life.
As a convenience to our customers Hiller-US will offer customized annual service contracts with Hiller Service Technicians dispatched from both Germany and USA. Plus Hiller has established a net-work of factory approved regional independent repair shops as a supplemental alternative for long term machine life and serviceability.
The benefits of purchasing new or reconditioned Hiller-US supplied decanter centrifuges:
Warranty: Full Factory warranty protects your investment
System Design: Process and pre-installation consulting
Training: Installation, Operation, Maintenance, & Optimization
Ancillary: Tanks, filters, mixers, pumps, and system automation
Maintenance: Annual on-site field servicing or factory service center arranged servicing
Support: Years of industry experience and related engineering, controls, and service
Hiller Separation & Process US based in the Austin, Texas area is the factory direct sales and support office servicing North America for Hiller Separation & Process GmbH of Vilsbiburg, Germany.
Top of Page