Mobile Decanter Centrifuge Rental Trailers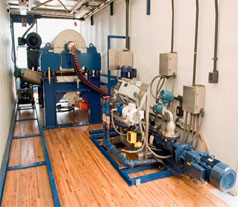 Hiller-US in Lampasas, Texas maintains complete mobile decanter centrifuge rental units for both short term and extended periods.
The portable systems feature 125-gpm Hiller DP45 production model centrifuges mounted in a standard semi-trailer with all the system controls and ancillary equipment such as polymer make-down units, feed pumps, and screw conveyor systems for removal of the dewatered bio-solids and / or sludge cake.
The DP45 rental unit contains all necessary pumps and equipment for conducting sludge dewatering and / or liquid solids separation duties. The basic components are:
One (1) DP45-422HY test unit with 45 cm 18" diameter bowl
One (1) Progressive cavity feed pump with a capacity of 110-gpm
One (1) Magnetic flow meter for measuring the flow rate
One (1) Stranco Polyblend polymer dilution system and progressive cavity dilute emulsion feed pump.
One (1) Dewatered solids screw conveyor system
One (1) automated control system with PLC, panel view operator interface and scroll drive controller.
Technical Specifications
Dimensions: 8'W x 45'L semi-trailer
Weight: Approximately 23,000-lbs dry and 28,000-lbs wet
Power Requirement: 100 Amp 480V/60/3 service
Water: 35-gpm Note: only used intermittently for flush at startup and shutdown. Continuous flow for polymer makeup is less than 10-gpm. City water is requested.
Other capacity and equipped rental units available. Please contact us for more information.
Top of Page